シングルマシンパスワードの入力
Wolframシステムクライアントが MathLM からライセンスを受けることができない場合は,シングルマシンパスワードを入力するという方法もある.シングルマシンパスワードを使うと,Wolframシステムはライセンスサーバからライセンスを受けない.ライセンスのタイプによっては,シングルマシンパスワードを入力するためにはWolfram Researchに連絡して,追加ライセンスを購入する必要がある場合もある.
フロントエンドでシングルマシンパスワードを入力する
「MathLM のトラブルシューティング」で示したように,ライセンスの期限切れダイアログボックスからパスワードの入力を選んだ場合,以下のダイアログボックスが表示される.このダイアログボックスは,mathpassファイルが見付からないときにも表示される.
1. シングルマシンを選んで,テキストフィールドにユーザ名,所属機関名,ライセンス番号を入力する.ライセンス番号はライセンス証書に記載されている.入力が終ったらOKをクリックする.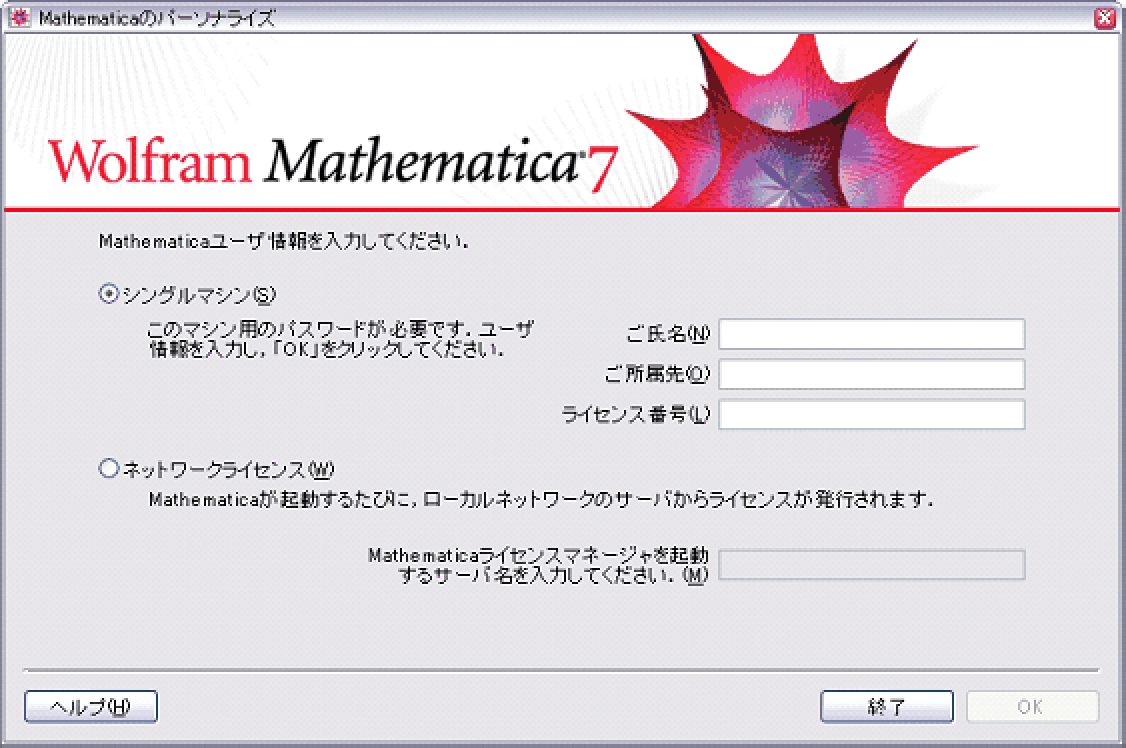 2. 以下のようなダイアログボックスが現れ,マシンのMathID番号を表示する.パスワードを取得するために,Wolfram Researchに連絡する(詳細は「登録とパスワード」を参照のこと).その際,ライセンス番号とこのMathID番号が必要である.
カーネルからシングルマシンパスワードを入力する
Wolfram言語カーネルが MathLM からライセンスを取得することができない場合,以下のメッセージが表示される.
1. メッセージには,マシン名とMathID番号が含まれている.パスワードを取得するために,Wolfram Researchに連絡する(詳細は「登録とパスワード」を参照のこと).その際,ライセンス番号とこのMathID番号が必要である.
A password entry for a network license server was found,
but no license was returned. The license server may not be
responding, or no licenses are available from the server.
You may need to contact your system administrator to
start the license server, or wait until a license is
available.

Machine name: hostname
MathID: dddd-ddddd-ddddd

You will need a valid license ID and password in order
to proceed. Go to http://register.wolfram.com or
http://reference.wolfram.com/singlemachine for more
information.