Views
---
A Workbench perspective contains a number of views that show relevant information and also provide controls to modify the behavior of the system. Generally a view has its title at the top. Some of the useful views include the Navigator view, which shows information on files and other resources in your project; the Console view, which shows output and status information from the Workbench; and the Outline view, which shows a summary of information.
The Mathematica Development perspective opens a number of views by default; it offers a number of others with easy access from the menu bar. Select Window > Show View and a number of views are available as shown below.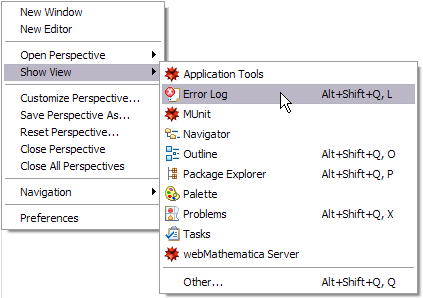 There are more views available under the Other category.


If you think that a view is missing from your perspective, you may want to reset the perspective.