FunctionCompileExport
FunctionCompileExport["file.ext",func]
exports a compiled version of func in the format specified by the file extension ext.
Details and Options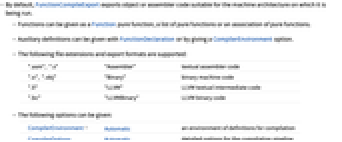 By default, FunctionCompileExport exports object or assembler code suitable for the machine architecture on which it is being run.

".asm"

,

".s"
"Assembler"

textual assembler code

".o"

,

".obj"
"Binary"

binary machine code

".ll"
"LLVM"

LLVM textual intermediate code

".bc"
"LLVMBinary"

LLVM binary code

FunctionCompileExport returns the name of the file that it created.
In FunctionCompileExport

[

path

,

func

,

…

]

,

func

can be a CompiledCodeFunction object.
Introduced in 2019
(12.0)