ObservabilityMatrix
Details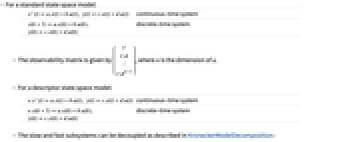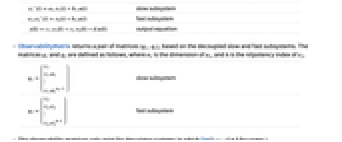 The slow and fast subsystems can be decoupled as described in KroneckerModelDecomposition:
ObservabilityMatrix returns a pair of matrices , based on the decoupled slow and fast subsystems. The matrices and are defined as follows, where is the dimension of , and is the nilpotency index of .
The observability matrices only exist for descriptor systems in which Det

[

λ

e

-

a

]

≠

0 for some

λ

.
Examples
open all
close all
Properties & Relations
(3)
A system is observable if and only if its observability matrix has full rank:
The observability matrix of a discrete-time system does not depend on the sampling period:
A descriptor system gives one matrix for the slow subsystem and one for the fast subsystem:
Complete observability requires both matrices to be full rank:
Observability of the slow subsystem is determined by the first matrix:
Introduced in 2010
(8.0)
Updated in 2012
(9.0)