FromCharacterCode
Details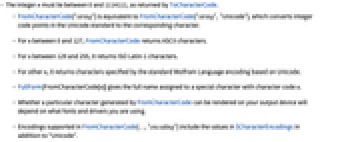 The integer

n

must lie between 0 and 1114112, as returned by ToCharacterCode.
For

n

between 0 and 127, FromCharacterCode returns ASCII characters.
For other

n

, it returns characters specified by the standard Wolfram Language encoding based on Unicode.
FullForm

[

FromCharacterCode

[

n

]

]

gives the full name assigned to a special character with character code

n

.
Whether a particular character generated by FromCharacterCode can be rendered on your output device will depend on what fonts and drivers you are using.
Encodings supported in FromCharacterCode

[

…

,

"

encoding

"

]

are given by $CharacterEncodings.
Examples
open all
close all
Basic Examples
(2)
Give a string consisting of the sequence of characters with codes 97, 98, and 99:
FromCharacterCode reconstructs the original string:
Properties & Relations
(4)
Introduced in 1991
(2.0)
Updated in 2019
(12.0)