Padding
is an option to various array and image operations that specifies what padding to use when extending beyond the original data specified.
Details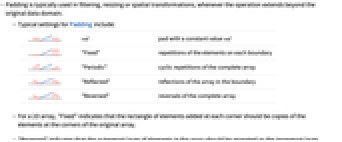 Padding is typically used in filtering, resizing or spatial transformations, whenever the operation extends beyond the original data domain.
Typical settings for Padding include:

val

pad with a constant value

val

"Fixed"

repetitions of the elements on each boundary

"Periodic"

cyclic repetitions of the complete array

"Reflected"

reflections of the array in the boundary

"Reversed"

reversals of the complete array

For a 2D array,

"Fixed"

indicates that the rectangle of elements added at each corner should be copies of the elements at the corners of the original array.
Examples
open all
close all
Scope
(1)
Many filter functions use Padding->"Fixed" to minimize visibility of padding artifacts:
Blur an example image using default padding method: