DICOMDIR
Import fully supports DICOMDIR files.
Background & Context

MIME type:

application/dicom

DICOM medical imaging format.
Commonly used in medical imaging equipment and picture archiving and communication systems.
DICOMDIR references multiple patients, studies and series of images.
DICOM is an acronym for Digital Imaging and Communications in Medicine.

DICOM stores multiple raster images together with patient and device information.
Binary format.
Supports a variety of image-encoding and data-compression methods.
DICOM Version 3.0 was introduced in 1993.
Import & Export

Import

[

"path/to/DICOMDIR"

,

elements

]

imports the specified elements.
Import Elements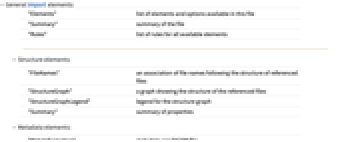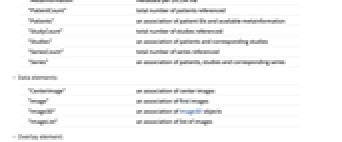 General Import elements:

| | | |
| --- | --- | --- |
| | "Elements" | list of elements and options available in this file |
| | "Summary" | summary of the file |
| | "Rules" | list of rules for all available elements |

| | | |
| --- | --- | --- |
| | "FileNames" | an association of file names following the structure of referenced files |
| | "StructureGraph" | a graph showing the structure of the referenced files |
| | "StructureGraphLegend" | legend for the structure graph |
| | "Summary" | summary of properties |

"MetaInformation"

metadata per DICOM file

"PatientCount"

total number of patients referenced

"Patients"

an association of patient IDs and available metainformation

"StudyCount"

total number of studies referenced

"Studies"

an association of patients and corresponding studies

"SeriesCount"

total number of series referenced

"Series"
an association of patients

,

studies and corresponding series

| | | |
| --- | --- | --- |
| | "CenterImage" | an association of center images |
| | "Image" | an association of first images |
| | "Image3D" | an association of Image3D objects |
| | "ImageList" | an association of list of images |

Import by default uses the

"FileNames"

element.
Import of a multi-image series with the

"Image"

element gives the first image.
Subelements for partial data import for any element

elem

can take patient, study or series specification in the form

{

elem

,

patient

,

study

,

series

}

, where either of the

patient

,

study

or

series

can be any of the following:
Options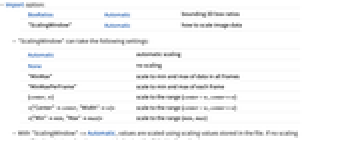 Examples
open all
close all