MX
(.mx)
Background & Context

Wolfram Language serialized package format.
Used for the distribution of Wolfram Language packages.
Stores arbitrary Wolfram Language expressions in a serialized format optimized for fast loading.
Binary file format.

MX files cannot be exchanged between operating systems that differ in $SystemWordLength.
MX files created by newer versions of the Wolfram System may not be usable by older versions.
Developed by Wolfram Research.
Import & Export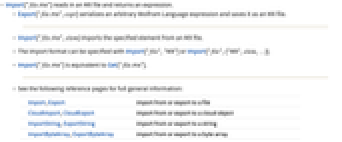 Import

[

"

file

.mx"

]

reads in an MX file and returns an expression.
Export

[

"

file

.mx"

,

expr

]

serializes an arbitrary Wolfram Language expression and saves it as an MX file.
Import

[

"

file

.mx"

,

elem

]

imports the specified element from an MX file.
Import Elements