FindCycle
Details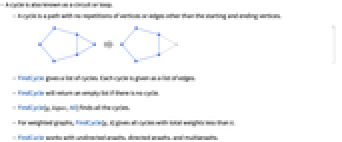 A cycle is a path with no repetitions of vertices or edges other than the starting and ending vertices.
FindCycle gives a list of cycles. Each cycle is given as a list of edges.
FindCycle will return an empty list if there is no cycle.
For weighted graphs, FindCycle

[

g

,

k

]

gives all cycles with total weights less than

k

.
FindCycle works with undirected graphs, directed graphs, and multigraphs.
Introduced in 2014
(10.0)
Updated in 2015
(10.3)