LegendreQ
LegendreQ[n,z]
gives the Legendre function of the second kind

.
LegendreQ[n,m,z]
gives the associated Legendre function of the second kind

.
Details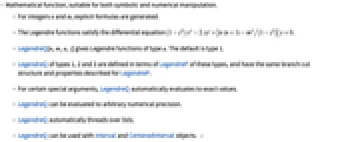 The Legendre functions satisfy the differential equation .
LegendreQ

[

n

,

m

,

a

,

z

]

gives Legendre functions of type

a

. The default is type 1.
LegendreQ of types 1, 2 and 3 are defined in terms of LegendreP of these types, and have the same branch cut structure and properties described for LegendreP.
For certain special arguments, LegendreQ automatically evaluates to exact values.
LegendreQ can be evaluated to arbitrary numerical precision.
LegendreQ automatically threads over lists.
Examples
open all
close all
Introduced in 1988
(1.0)
Updated in 1996
(3.0)