Rule
lhs->rhs or lhsrhs
represents a rule that transforms lhs to rhs.
Details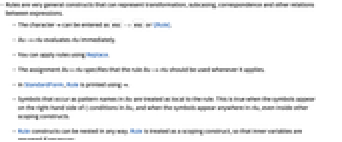 Rules are very general constructs that can represent transformation, subcasing, correspondence and other relations between expressions.
The character



can be entered as

->

or

∖

[Rule].
You can apply rules using Replace.
In StandardForm, Rule is printed using

 



.
Symbols that occur as pattern names in

lhs

are treated as local to the rule. This is true when the symbols appear on the right

‐

hand side of

/;

conditions in

lhs

, and when the symbols appear anywhere in

rhs

, even inside other scoping constructs.
Examples
open all
close all
Properties & Relations
(4)
Introduced in 1988
(1.0)
Updated in 1996
(3.0)