Sockets
Sockets[]
returns all active socket connections initiated by your current Wolfram Language session.
returns all sockets connected to your current session, including remote sockets originating outside your current session.
Sockets[spec]
returns only sockets specified by spec.
Details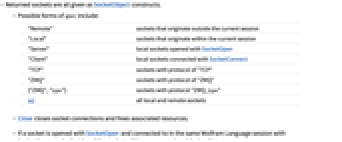 Examples
open all
close all
Scope
(2)
Only see local sockets on your machine:
Listen on a socket with SocketListen and see the socket that is listened on:
The socket can also be viewed with the property "Socket" on the SocketListener[…] object:
Possible Issues
(1)
When connecting to a server socket with SocketConnect in the same session, the socket returned by SocketConnect is different than the socket object returned by the server socket's "ConnectedClients" property.
Open a server socket and connect a client to it:
Sockets[] will only show the connections you opened, because they are both local:
There is also an additional remote socket created with the same details as the client socket accessible inside Sockets["Remote"]:
The UUID for the remote client does not match the local client returned by SocketConnect:
These two sockets are the two ends of the socket connection; writing to one of them will send a message to the other:
Closing the server will disconnect the remote client and remove it from the list of active sockets:
Introduced in 2017
(11.2)
Updated in 2020
(12.1)