Toggler
Details and Options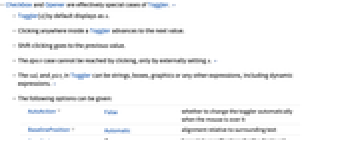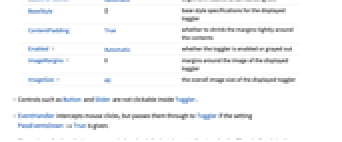 Toggler

[

x

]

by default displays as

x

.
Clicking anywhere inside a Toggler advances to the next value.
The

dpict

case cannot be reached by clicking, only by externally setting

x

.

»

The

val

i

and

pict

i

in Toggler can be strings, boxes, graphics or any other expressions, including dynamic expressions.

»

EventHandler intercepts mouse clicks, but passes them through to Toggler if the setting PassEventsDown->True is given.
The settings for BaseStyle are appended to the default style typically given by the

"Toggler"

style in the current stylesheet.
Examples
open all
close all