ColorSetter
ColorSetter[color]
represents a color setter which displays as a swatch of the specified color and when clicked brings up a system color picker dialog.
ColorSetter[Dynamic[color]]
uses the dynamically updated current value of color, with the value of color being reset if the color is modified.
gives a color setter with initial color gray.
Details and Options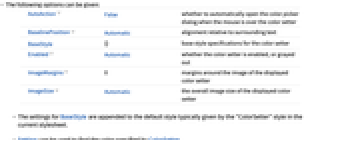 The settings for BaseStyle are appended to the default style typically given by the

"ColorSetter"

style in the current stylesheet.
Setting can be used to find the color specified by ColorSetter.
Examples
open all
close all