ImageSubtract
ImageSubtract[image,x]
subtracts a constant amount x from each channel value in image.
ImageSubtract[image1,image2]
gives an image in which each pixel is obtained by subtracting the values of the corresponding pixels in image1 and image2.
ImageSubtract[image,expr1,expr2,…]
subtracts all expri from image, where each expri can be either an image, a number, or a color value.
Details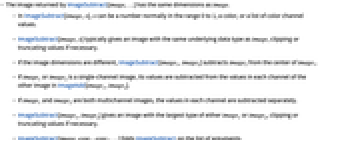 Examples
open all
close all
Introduced in 2008
(7.0)
Updated in 2012
(9.0)
2014
(10.0)