"

Vernier

"

"Vernier" provides a general interface to Vernier Go!Link compatible sensors.

A variety of sensors can be connected to the Vernier Go!Link to measure such things as pressure, acceleration, light intensity, gas concentrations, chemical properties and electromagnetic properties.

A full list of compatible sensors can be found on the Vernier website.
Device Discovery

Opening the Device

Configuring the Device

DeviceConfigure[dev,"MeasurementInterval"dt]

configures the device to take measurements at time interval dt.

dt

can be the number of seconds or a Quantity object representing time.

"MeasurementInterval"



Automatic uses

"MinMeasurementInterval"

.
Device Properties

| | | |
| --- | --- | --- |
| | "SensorID" | integer that identifies the type of sensor |
| | "SensorName" | name of the sensor |
| | "SensorDescription" | description of the sensor |
| | "MeasurementInterval" | time between measurements |
| | "MinMeasurementInterval" | minimum configurable time between measurements |
| | "MaxMeasurementInterval" | maximum configurable time between measurements |
| | "ProbeType" | type of probe attached |
| | "BufferLength" | length of sensor buffer |
Reading Data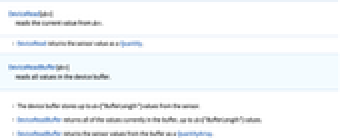 Closing and Releasing Resources