InverseRadonTransform
Details and Options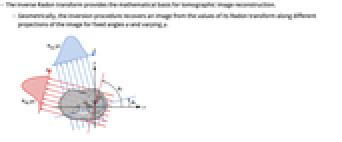 Geometrically, the inversion procedure recovers an image from the values of its Radon transform along different projections of the image for fixed angles and varying .
InverseRadonTransform computes a radial Fourier transform, followed by a two-dimensional inverse Fourier transform, to accomplish the above inversion.

»

In TraditionalForm, InverseRadonTransform is output using .
Examples
open all
close all
Introduced in 2017
(11.2)