NetModel["name"]
represents a neural net model with the specified name from the Neural Net Repository.
NetModel["name","prop"]
gives property prop of the model.
NetModel[]
obtains a dataset of available pre-trained neural net models.
Details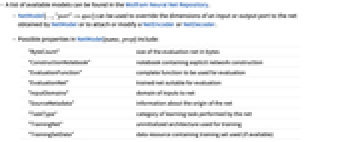 A list of available models can be found in the Wolfram Neural Net Repository.
Possible properties in NetModel

[

name

,

prop

]

include:

"ByteCount"

size of the evaluation net in bytes

"ConstructionNotebook"

notebook containing explicit network construction

"EvaluationFunction"

complete function to be used for evaluation

"EvaluationNet"

trained net suitable for evaluation

"InputDomains"

domain of inputs to net

"SourceMetadata"

information about the origin of the net

"TaskType"

category of learning task performed by the net

"TrainingNet"

uninitialized architecture used for training

"TrainingSetData"
data resource containing training set used

(

if available

)

"TrainingSetInformation"

information about the training set used to train the net

"UninitializedEvaluationNet"

untrained evaluation net

"SourceMetadata"

consists of an association whose keys are based on a subset of properties from the Dublin Core metadata standard, including

"Creator"

,

"Date"

,

"Rights"

,

"Source"

.
The effective default value for

"EvaluationFunction"

is NetModel

[

…

,

"EvaluationNet"

]

.
NetModel may download resources that will be stored in your local object store at $LocalBase, and that can be listed using LocalObjects

[

]

and removed using ResourceRemove.
Introduced in 2017
(11.1)
| Updated in 2018
(11.3)