PageWidth
is an option for output streams and for cells that specifies how wide each line of text is allowed to be.
Details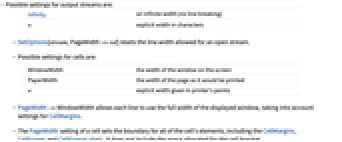 Infinity
an infinite width

(

no line breaking

)

n

explicit width in characters

SetOptions

[

stream

,

PageWidth->

val

]

resets the line width allowed for an open stream.

| | | |
| --- | --- | --- |
| | WindowWidth | the width of the window on the screen |
| | PaperWidth | the width of the page as it would be printed |
| | n | explicit width given in printer's points |

PageWidth->WindowWidth allows each line to use the full width of the displayed window, taking into account settings for CellMargins.
The PageWidth setting of a cell sets the boundary for all of the cell's elements including the CellMargins, CellFrame and CellFrameLabels. It does not include the space allocated for the cell bracket.
Examples
open all
close all
Properties & Relations
(2)
Introduced in 1988
(1.0)
Updated in 2003
(5.0)