InputField
Details and Options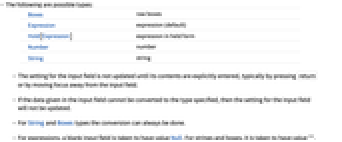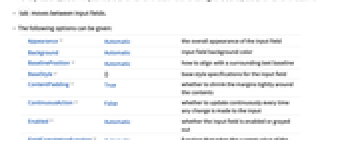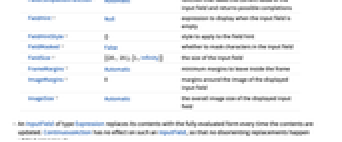 The setting for the input field is not updated until its contents are explicitly entered, typically by pressing or by moving focus away from the input field.
If the data given in the input field cannot be converted to the type specified, then the setting for the input field will not be updated.
For expressions, a blank input field is taken to have value Null. For strings and boxes, it is taken to have value

""

.
moves between input fields.
An InputField of type Expression replaces its contents with the fully evaluated form every time the contents are updated. ContinuousAction has no effect on such an InputField, so that no disorienting replacements happen while typing inputs.
Possible settings for Appearance include

"Framed"

and

"Frameless"

.
InputField

[

]

is equivalent to InputField

[

Null

]

.
The settings for BaseStyle are appended to the default style typically given by the

"InputField"

style in the current stylesheet.
Examples
open all
close all
Introduced in 2007
(6.0)
Updated in 2010
(8.0)
2016
(11.0)