Once
Once[expr]
evaluates expr once in each Wolfram Language session, always returning the result from the first evaluation.
Once[expr,loc]
evaluates expr once and caches the result in persistence location loc.
Details and Options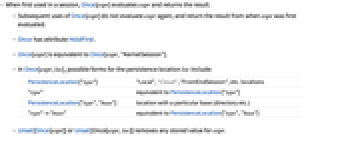 When first used in a session, Once

[

expr

]

evaluates

expr

and returns the result.
Subsequent uses of Once

[

expr

]

do not evaluate

expr

again, and return the result from when

expr

was first evaluated.
A persistence location is given as PersistenceLocation

[

"

type

"

]

or "

type

".
Once has the following options:
If Once

[

expr

,

…

]

is evaluated after a cached result is specified to have expired, then

expr

will be evaluated again.
Examples
open all
close all
Introduced in 2016
(11.0)
| Updated in 2017
(11.2)