CSV
(.csv)
Import and Export fully support the CSV format and provide various data conversion and formatting options.
Import automatically recognizes common number formats, including C and Fortran notations.
Background & Context

MIME type:

text/comma-separated-values

,

text/csv

CSV tabular data format.
Stores records of numerical and textual information as lines, using commas to separate fields.
Commonly used in spreadsheet applications as an exchange format.

CSV is an acronym for Comma-Separated Values.
Plain text format.
Similar to TSV.
Supports RFC 4180.
Import & Export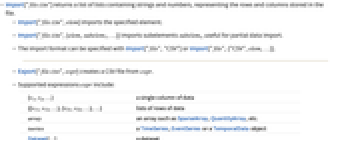 Import

[

"

file

.csv"

]

returns a list of lists containing strings and numbers, representing the rows and columns stored in the file.
Import

[

"

file

.csv"

,

elem

]

imports the specified element from a CSV file.
Import

[

"

file

.csv"

,

{

elem

,

subelem

1

,

…

}

]

imports subelements

subelem

i

, useful for partial data import.
Export

[

"

file

.csv"

,

expr

]

creates a CSV file from

expr

.

{

v

1

,

v

2

,

…

}

a single column of data

{

{

v

11

,

v

12

,

…

}

,

{

v

21

,

v

22

,

…

}

,

…

}

lists of rows of data

array

an array such as SparseArray

,

QuantityArray

,

etc.

tseries

a TimeSeries

,

EventSeries or a TemporalData object
Dataset

[

…

]

a dataset
Import Elements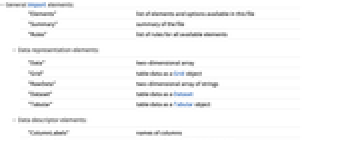 General Import elements:

| | | |
| --- | --- | --- |
| | "Elements" | list of elements and options available in this file |
| | "Summary" | summary of the file |
| | "Rules" | list of rules for all available elements |

| | | |
| --- | --- | --- |
| | "Data" | two-dimensional array |
| | "Grid" | table data as a Grid object |
| | "RawData" | two-dimensional array of strings |
| | "Dataset" | table data as a Dataset |

Subelements for partial data import for any element

elem

can take row and column specifications in the form

{

elem

,

rows

,

cols

}

, where

rows

and

cols

can be any of the following:

n

n

th row or column
-

n

counts from the end

n

;;

m

from

n

through

m

n

;;

m

;;

s

from

n

through

m

with steps of

s

{

n

1

,

n

2

,

…

}

specific rows or columns

n

i
Examples
open all
close all