Import supports the HEIF standard.
Background & Context
MIME type:

image/heic

,

image/heif

,

image/heic-sequence

,

image/heif-sequence

HEIF raster image and compression format.
Commonly used for storing still or animated images.
HEIF is an acronym for High Efficiency Image File Format.
Binary format.
Supports grayscale and RGB color spaces.

Supports up to 16 bits per color channel.
Uses a lossy compression based on discrete cosine transform with varied block sizes.
Supports different compression levels.
Developed by Moving Picture Experts Group (MPEG).
Published as international standard ISO/IEC 23008-12.
Import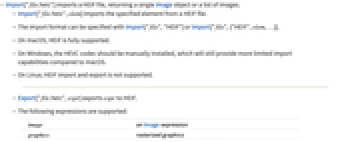 Import

[

"

file

.heic"

]

imports an HEIF file, returning an image.
Import

[

"

file

.heic"

,

elem

]

imports the specified element from an HEIF file.
See the reference pages for full general information on Import.
ImportString supports the HEIF format.
Import Elements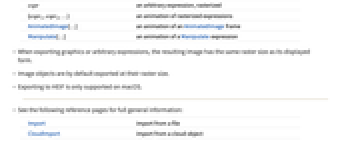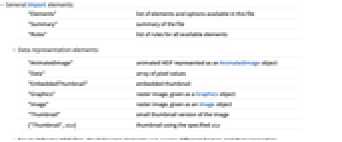 General Import elements:

"Elements"

list of elements and options available in this file

"Rules"

full list of rules for each element and option

"Options"
list of rules for options

,

properties and settings

"Data"

array of pixel values

"EmbeddedThumbnail"

embedded thumbnail

"Graphics"
raster image

,

given as a Graphics object
"Image"
raster image

,

given as an Image object
"Thumbnail"

small thumbnail version of the image

{

"Thumbnail"

,

size

}

thumbnail using the specified

size

| | | |
| --- | --- | --- |
| | "EmbeddedThumbnailList" | a list of embedded thumbnails |
| | "GraphicsList" | a list of graphics |
| | "ImageCount" | number of stored frames |
| | "ImageList" | a list of images |
| | "ThumbnailList" | a list of thumbnail images |

Import by default uses the

"Image"

element for the HEIF format.
Advanced Import elements:

"BitDepth"

bits used to represent each color channel in the file

"Channels"

the number of color channels used in the file

"ColorProfileData"
embedded color profile

,

given as a ColorProfileData object
"ColorSpace"

color encoding used in the file

"EmbeddedThumbnailSize"

size of the embedded thumbnail

"ImageSize"

raster dimensions

"Summary"

summary of the file

"SummarySlideView"

slide view summary of all frames
Examples
open all
close all
Introduced in 2020
(12.1)