Framed
Framed[expr]
displays a framed version of expr.
Details and Options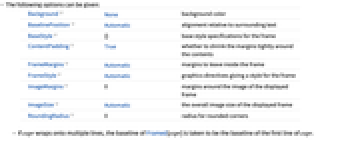 If

expr

wraps onto multiple lines, the baseline of Framed

[

expr

]

is taken to be the baseline of the first line of

expr

.
The option setting FrameStyle->None draws no explicit frame.
RoundingRadius->

r

specifies rounded corners consisting of quarter circles with a radius of

r

printer's points.
Introduced in 2007
(6.0)
Updated in 2010
(8.0)