$TimeZone
gives the current time zone to assume for dates and times.
Details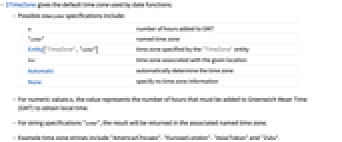 The time zone gives the number of hours that must be added to Greenwich Mean Time (GMT) to obtain local time.
Daylight saving time corrections must be included in the time zone, so US Eastern Daylight Time (EDT) corresponds to time zone

-4

.
$TimeZone defaults to $SystemTimeZone.
$TimeZone=

z

resets the current time zone for purposes of functions like DateString, DateList, and AbsoluteTime.
Introduced in 2007
(6.0)
Updated in 2014
(10.0)