ArcTan
ArcTan[z]
gives the arc tangent

of the complex number

.
ArcTan[x,y]
gives the arc tangent of

, taking into account which quadrant the point

is in.
Details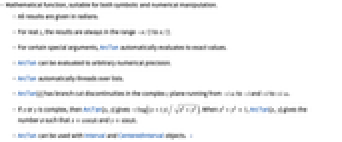 For certain special arguments, ArcTan automatically evaluates to exact values.
ArcTan can be evaluated to arbitrary numerical precision.
ArcTan automatically threads over lists.
ArcTan

[

z

]

has branch cut discontinuities in the complex plane running from to and to .
Examples
open all
close all