CepstrogramArray
Details and Options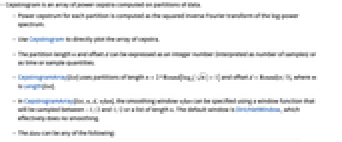 Power cepstrum for each partition is computed as the squared inverse Fourier transform of the log-power spectrum.
Use Cepstrogram to directly plot the array of cepstra.
The partition length

n

and offset

d

can be expressed as an integer number (interpreted as number of samples) or as time or sample quantities.
CepstrogramArray

[

list

]

uses partitions of length and offset , where

m

is Length

[

list

]

.
In CepstrogramArray

[

list

,

n

,

d

,

wfun

]

, the smoothing window

wfun

can be specified using a window function that will be sampled between and or a list of length

n

. The default window is DirichletWindow, which effectively does no smoothing.
Examples
open all
close all
Introduced in 2017
(11.1)
Updated in 2017
(11.2)