FindDistributionParameters
FindDistributionParameters[data,dist,{{p,p0},{q,q0},…}]
finds the parameters p, q, … with starting values p0, q0, ….
Details and Options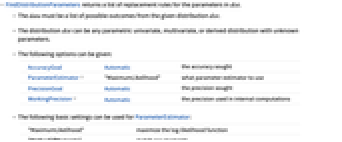 FindDistributionParameters returns a list of replacement rules for the parameters in

dist

.
The distribution

dist

can be any parametric univariate, multivariate, or derived distribution with unknown parameters.
The following basic settings can be used for ParameterEstimator:

"MaximumLikelihood"
maximize the log

‐

likelihood function
"MethodOfMoments"

match raw moments

"MethodOfCentralMoments"

match central moments

"MethodOfCumulants"

match cumulants

"MethodOfFactorialMoments"

match factorial moments

The maximum likelihood method attempts to maximize the log-likelihood function , where are the distribution parameters and is the PDF of the distribution.
The method of moments solves , , where is the sample moment and is the moment of the distribution with parameters .
Examples
open all
close all