ClusterClassify
Details and Options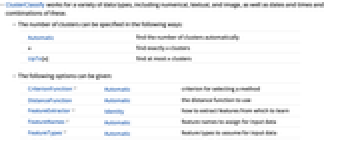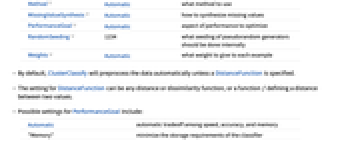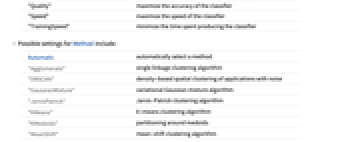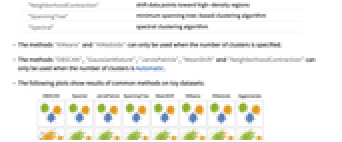 ClusterClassify works for a variety of data types, including numerical, textual, and image, as well as dates and times and combinations of these.
By default, ClusterClassify will preprocess the data automatically unless a DistanceFunction is specified.
The setting for DistanceFunction can be any distance or dissimilarity function, or a function

f

defining a distance between two values.
Possible settings for PerformanceGoal include:

Automatic
automatic tradeoff among speed

,

accuracy

,

and memory
"Memory"

minimize the storage requirements of the classifier

"Quality"

maximize the accuracy of the classifier

"Speed"

maximize the speed of the classifier

"TrainingSpeed"

minimize the time spent producing the classifier

Possible settings for Method include:
Possible settings for CriterionFunction include:

"StandardDeviation"

root-mean-square standard deviation

"RSquared"

R-squared

"Dunn"

Dunn index

"CalinskiHarabasz"
Calinski

–

Harabasz index
"DaviesBouldin"
Davies

–

Bouldin index
"Silhouette"

Silhouette score

Automatic

internal index

Possible settings for RandomSeeding include:

| | | |
| --- | --- | --- |
| | Automatic | automatically reseed every time the function is called |
| | Inherited | use externally seeded random numbers |
| | seed | use an explicit integer or strings as a seed |

ClusterClassify

[

…

,

FeatureExtractor



"Minimal"

]

indicates that the internal preprocessing should be as simple as possible.
Examples
open all
close all
Introduced in 2016
(10.4)
Updated in 2017
(11.1)
2017
(11.2)
2018
(11.3)
2020
(12.1)