Power
x^y
gives

to the power

.
Details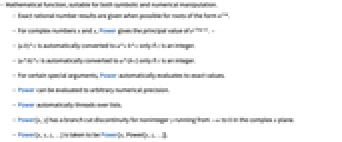 Exact rational number results are given when possible for roots of the form .
For certain special arguments, Power automatically evaluates to exact values.
Power can be evaluated to arbitrary numerical precision.
Power automatically threads over lists.
Power

[

x

,

y

]

has a branch cut discontinuity for noninteger running from to 0 in the complex plane.
Examples
open all
close all