Annotation
Annotation[expr,data]
represents an expression expr, with annotation data.
Annotation[expr,data,"type"]
specifies the type of annotation being given.
Details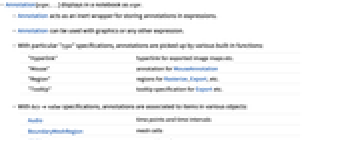 Annotation

[

expr

,

…

]

displays in a notebook as

expr

.
Annotation acts as an inert wrapper for storing annotations in expressions.
Annotation can be used with graphics or any other expression.
Examples
open all
close all
Introduced in 2007
(6.0)
Updated in 2019
(12.0)
2020
(12.1)